Join us for FREE training sessions, where Backyard Riches members meet up to share their trials and triumphs. These are the pioneers and practical thinkers who are turning their gardens into cash machines.
They discuss the best ways urban and suburban growers can make money growing food, without having to take on the burdens of owning lots of land, investing piles of money and making a big lifestyle change. You don't have to! Whether you want to earn some quick cash to fund a vacation, or start a whole new career, join in our free training sessions to learn from those who are doing it every day:
How to layout your garden to maximize yields
Which high-value crops to grow (man does not live by micros alone!)
What kind of equipment is worth investing in
How to manage your time efficiently to get it all done
How to identify the best markets, how to set prices and package your produce
How to sell effectively
How to expand your business without  expanding your workforce or growing space
---
NEXT FEATURED FARMER: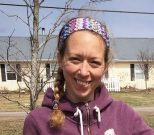 Tara Callaghan, owner/operator, Little Victory Microfarms
Tara's in a position any new SPIN farmer would envy. She's created a picture perfect farm, is hitting SPIN's sales benchmarks, and in the space of 2 years, has proven she can handle the basics with aplomb. She's got the data and sales to prove it, and Wally thinks she's ready to double her revenue next year. Let's see how far she's come and how she can make $28k on 14,150 sq. ft. next year.Save your seat here.
Friday, Oct. 13, 2pm ET 
Limited to 100 participants. Don't miss this exclusive free opportunity to pick the brain of one of today's brightest, innovative and most accomplished backyard farmers. Save your seat here.
CAN'T MAKE IT? Become a member and catch the replay here.