Courtesy of Wally S., Wally's Urban Market Garden, Saskatoon SK
Go with your gut" is sometimes good advice. But if you want to turn your garden into a business, you also have to use your head. Over the years I have developed strategies for each of my crops. Having a cropping strategy is especially important for crops that are pretty common or low value, such as carrots, garlic, onions, potatoes, tomatoes, and even greens because you have to differentiate yourself at market from other growers, and you have to turn a low value crop into a high value one. That means having a crop available when others don't, offering different varieties from others, or targeting different markets, like restaurants.
For instance, carrots have always been a top money making crop for me. But a carrot is not a carrot is not a carrot. There are different sizes of carrots. There are rainbow carrots. There are novelty carrots. Each one has a different place and time throughout my marketing period.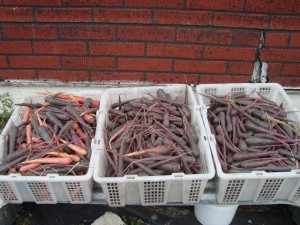 Onions are another big crop because they provide steady cash flow. This year I am growing 10 segments. I sell them steadily throughout the season starting with scallion and then progressing to onion bunches and dry onion in the fall.
Leafy greens are another important crop to think through because there are so many options - chard, collards, kale, lettuces, salad mixes, spinaches. Fresh herbs, such as basil, cilantro and parsley can also be included. And then there are micro greens, orach, purslane and other novelty crops. My greens strategy is based on having anywhere from 100 units to 500 units of some combination of greens throughout the season, especially early on before other producers have them.
Knowing why you are growing a certain crop is as important as knowing how to grow it, and having cropping strategies is what turns growing into a business.
FIND OUT WHEN, HOW AND WHY TO GROW THE BEST MONEYMAKING VEGGIES IN THE BACKYARD RICHES MEMBER FORUM HERE > > >