Courtesy Julianna Tan, Those Girls at the Market. Saskatoon SK
Last weekend we participated in our first on-campus farmers' market pilot project held at the University of Saskatchewan. As a pilot, this was a one-time event to test whether or not an on-campus market would be successful. Initially, the project started when Wally passed on an e-mail to me after he received it from a group of nutrition students who were interested in piloting an on-campus market. I reached out to the students and the pilot developed from there.
Realizing that although e-mail is often quick and convenient, it has not been an effective way to get responses from our vendors, I decided to hand-deliver a letter to each vendor and explain our goal face-to-face of bringing a market to the students. Since we were crunched for time, I provided a specific date that vendors were welcome to express interest to me via phone, e-mail, or in person at the market. Within five days, I had filled every vendor spot available (14 spots).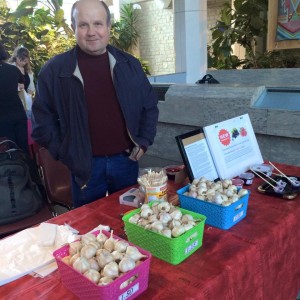 Myron showcasing his locally grown garlic bulbs and homemade blackcurrant jams & jellies to students, faculty, and staff.
The pilot market was set up in a way to accommodate the vendors as much as possible, providing no fees for setting up a table and free parking for the day. Social media posts were made on behalf of both the Saskatoon Farmers' Market and the university in the few days leading up to the event. Aside from a few hiccups at the beginning of the day (i.e., the organizers were not present on time, vendors getting lost on-campus), itdidn't take long before the market was packed with vendors, students, faculty, and staff. The first hour set the tone for the rest of the day- vendors were constantly making exchanges with customers. Several vendors sold out- not only once, but twice or even three times. We had vendors making runs back to the bakery to re-stock, just to sell out again within hours.


Facebook post on the Saskatoon Farmers' Market updating followers on the on-campus market.
Vendors announced that the on-campus market was one of their busiest days- even surpassing Saturday markets at our traditional farmers' market, which tends to be our busiest market day. The general feedback from customers was a hope that we would establish a regular recurring market day on campus. Students expressed a great interest for connecting and supporting local producers and artisans, but pointed out that getting to the market posed quite a challenge. Issues that prevented students from getting to the market included limited parking and limited hours. With over 20,000 students on campus each day, it's a win-win situation bringing the market to the students, faculty, and staff who are already present on the university campus. This removes the major barriers that prevent this population from supporting local vendors at the Saskatoon Farmers' Market, while also providing the opportunity to promote what the Saskatoon Farmers' Market has to offer. We allowed each customer to enter a draw for every purchase, with 10 gift certificates valued at $5 as a prize for 10 different winners. Multiple vendors offered coupons and incentives to encourage customers to visit the Saskatoon Farmers' Market. Taken together, the hope was to encourage new visitors and customers to experience the Saskatoon Farmers' Market.


Good Spirit Bakery lifting students' spirits with freshly baked organic breads, rolls, and goodies.
Moving forward, although this event was a huge success for everyone involved, a few things have to be considered if we are to put a regular recurring on-campus market in place:
1. How often would the market occur and which day of the week?
2. What would the charge be for setting up a booth?
3. Where and how much would vendors pay to park?
4. Would the on-campus market be in the same location (i.e. Agriculture Atrium) or should it be in a more central location or travel to
different faculties?
5. How do we decide who gets a spot if demand exceeds space?
6. Would the regulations and restrictions of the Saskatoon Farmers' Market also apply to the on-campus market? (prohibition of selling
"swag", such as T-shirts, hats, etc.)
These are only a handful of the many considerations that would be discussed- but I think the key to taking advantage of this exciting and important time of positive change and growth for the Saskatoon Farmers' Market is testing out the waters and being a little bit fearless. I think we need to keep the momentum going- this is an opportunity which has a lot of potential to energize our vendors, reach a new population, and scale up our presence in this growing city of Saskatoon.
CONTINUE THIS DISCUSSION IN THE BACKYARD RICHES MEMBER FORUM > > >
Not a member? Want to meet up with and learn from some of the most progressive and entrepreneurial business owners in the local foods scene today, like Julianna Tan? Purchase one of Backyard Riches' learning programs and become a member now.
Those Girls at the Market specialize in healthy, raw organic chocolate that is vegan-friendly and free of lactose and gluten. We use ethically farmed and certified organic ingredients. Our passion is combining tantalizing taste with superfood nutrition.
Owners: Ying and Julianna Tan
www.thosegirlsatthemarket.com
Phone: 306 241 9390
info@thosegirlsatthemarket.com