Courtesy of Julianna Tan, Owner?Operator, Those Girls at Market, Saskatoon SK
You can joke that the human species is well on it's way to living in a virtual reality through technology outlets like computers, tablets ,and cellphones, but if you take a look around it doesn't seem all that unlikely...
While we should avoid trading our strong, straight backs in for hunched over shoulders, we can still take advantage of using these tools to help us connect to our customers and seek out new customers who care about what you are doing and what you have to offer. I'm here to show you how you might be able to utilize your computer or phone to reach out to your target audience and build a brand that will help you succeed as a business owner.
As we move into the digital world, social media has become a key component to building a successful business, regardless of what type of business you are pursuing. Here are three main platforms that are free to use, easy to sign up for, and useful to help grow your business:
FACEBOOK: Your Online Profile
Facebook is the one-stop-shop that allows you to post and share almost anything. Facebook allows you to develop a page that lets customers know who you are and what you are all about.

PROS
• Free to use, with affordable options to "boost" certain posts or create advertisements targeted at your choice of population
• Most popular form of social media with over 2 billion users worldwide
• Allows you to upload pictures, create photo albums, upload and share videos, articles, posts that you care about, and even host events
• No limit to post length
• Provides analytic information (shows you how many people see and engage with your page content)
CONS
• People's Facebook feeds are filtered: that means that if people stop interacting with your page (liking, commenting, sharing your posts) your content will stop showing up on their feeds and they will no longer see your content on their Facebook feeds.

TWITTER: Engaging and Interacting Live with Your Network
Twitter is a fast-paced and straightforward way to keep your customers updated on where you are and what you're thinking about.



PROS
• Free and simple to use
• Allows you to make written posts, as well as share articles, pictures, and retweet or respond to other people's posts
• Tweets are short (140 character limit) and therefore easy to read and to the point
• Every single post shows up on your followers feeds (no filtering)
• You can tweet to anybody in the world (i.e. If you want to talk to Justin Bieber, you can publicly tweet to Justin Bieber (76M followers).… whether or not he will answer and engage in conversation with you is up to him)
• Hashtagging (which you will learn more about) allows you to find posts you are interested in as well as allowing your post to be found by others with common interests from all around the world
CONS
• Posts are limited to 140 characters (you have to keep it simple!)
• Twitter is face-paced… if you don't post often (i.e., a couple times a day) your post is easily buried by other people's tweets
INSTAGRAM: Your Online Photo Album
Instagram is a fun, fast, and free way to share pictures in an artistic way.



PROS
• Free and easy to use
• Comes with several filters you can apply to your photos to enhance their visual appeal
• Easy to grow a large following through the use of hashtags, also allowing you to find others users with common interests from around the world
• Great way to showcase your product and advertise to people in your area
• No limit to your photo caption (which means you don't have to say anything about your picture or you can say as much as you want) (However, there is a limit of 30 hashtags)
CONS
• Limited to your own photo or short video (15 second) uploads (cannot post or share other content)
• You can only post on mobile (cell phone)- therefore you cannot use your computer to make a post
• Need a high quality camera on your phone
It will take a little bit of patience and a few posts to get a hang of things and to build a following, but with consistent updates, you can significantly grow your customers base and build a strong brand.
Although these social media platforms are a great way to advertise what you have to offer, it is important to develop an authentic connection to your audience and build your brand by seeking out material that resonates with the people you want to engage with. It's key to realize it is not all about advertising - it's about creating a relationship with your consumers by sharing your story. Having an authentic voice behind your posts will remind customers that you are human and sharing pictures and videos about how you do what you do includes your customers in the process.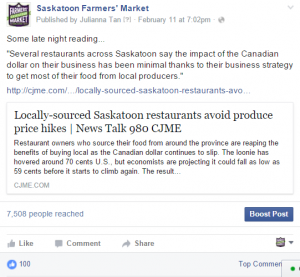 A Post on Facebook by the Saskatoon Farmers' Market Sharing an Article on the Positive Impact of Shopping Local.
This post received 100 likes and reached over 7,500 people. This is a good example of sharing posts that resonate with what you and your customers care about.
See you on the Internet!
CONTINUE THIS DISCUSSION IN THE BACKYARD RICHES MEMBER FORUM > > >
Not a member? Want to meet up with and learn from some of the most progressive and entrepreneurial business owners in the local foods scene today, like Julianna Tan? Purchase one of Backyard Riches' learning programs and become a member now.
Those Girls at the Market specialize in healthy, raw organic chocolate that is vegan-friendly and free of lactose and gluten. We use ethically farmed and certified organic ingredients. Our passion is combining tantalizing taste with superfood nutrition.
Owners: Ying and Julianna Tan
www.thosegirlsatthemarket.com
Phone: 306 241 9390
info@thosegirlsatthemarket.com