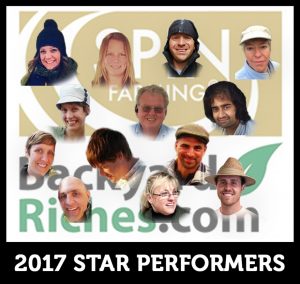 Here's SPIN-Farming's Alphabet List of 2017 Trends culled from all the presentations at last year's Member Meetups. Thanks to all of the forward thinking SPIN farmers listed below who presented their business plans, how they implemented them and the revenue they targeted and achieved.
SPIN's online Member Meetups are THE place to get in on the latest entrepreneurial farming trends as they are happening and learn from the real-world experience of those who are using SPIN-Farming to create and develop successful businesses. If starting a farm business, or learning the business of growing food, is on your New Year's to-do list, you're welcome to join in. (see below).
SPIN's Alphabet of 2017 Trends
A la carte CSA
Bike-power
Co-operative marketing
Diversification
Ethnic
Farm to Barrel
GAP
Hyperlocal
Intensification
Juicing
Kids
Loss leaders
Mushrooms
Nutrition info
Online marketplaces
Performance-based
Quick Greens
Relays
Sampling
Targeted revenue
Units
Value add
Winter micros
X-treme weather
Yardsharing
Zero waste
SPIN Farming's 2017 Star Members
Mary Ackley, Little Wild Things City Farm, Washington DC
Caroline Barrington, Clean Spade Farms, Swift Current SK
Keri Fox, Green Sister Gardens, Moose Jaw SK
John Greenwood, JNJ Farms, Macomb IL
Annabel Khouri, Bay Branch Farm, Cleveland OH
Brian Kowlaski, Murray Meadows Farm, Portugal Cove NL
Rob Miller, Trefoil Gardens, Woodstock GA
Adithya Ramachandran, Kaleidoscope Vegetable Gardens, Dundurn SK
Marcus Riedner, Happiness By The Acre, Calgary AB
Eric Stoffer, Bay Branch Farm, Cleveland OH
Brenda Sullivan, Thompson Street Farm, Glastonbury CT
Brianna van de Wijngaard, Puddle Produce, William Lake BC
Justin Vandenbroeck, Fleet Farming, Oakland CA



WANT TO JOIN THEM?
There are two options. You can purchase membership here, to participate in SPIN-Farming's online hub Backyard Riches where you can get access to all past and future Member Meetups as well as monthly instant learning sessions conducted by SPIN-Farming's creator, Wally Satzewich.
If you are committed to starting a business, purchase one of our programs here which also comes with a trial membership.Be on trend and in the money in 2017!